Chase Private Client
Pastor's Daughter 14 – Pastor's Daughter 16
Monday in New York With Lee – 1
November 7, 2017.  About Me.   I'm just really trying to finally get these pictures posted, the pictures that I took when I went to Staples twice, on Monday, October 30th, because of computer gremlin easy button laser beam "magic" performed on the mouse for my computer, the old mouse and the new mouse; the batteries.  The pink ear bunny rabbit drummer batteries.  This post is really a continuation of the post before this post, the post titled Monday in the Park With Lee – 1, and Pastor's Daughter 14-Pastor's Daughter 16 (and also Chase Private Client).

Chase Plaza

(Sunday in the Park With George, https://www.bing.com/images/search?q=sunday%20in%20the%20park%20with%20george%20seurat&qs=n&form=QBIR&sp=-1&pq=sunday%20in%20the%20park%20with%20george%20seurat&sc=3-37&sk=&cvid=6860E815E963465281F728FB18875498)
(FOR THE RECORD.  Seurat's painting is used as a "code word" for CIA-M15-ASIS agent George Orwell's paragraphs about Winston and Julia final meeting in a park.  [to be continued]  cc all Mormon barristers)
[MORMON COMPUTER GREMLINS:
STOP
ILLEGALLY HIDING/DELETING THIS PICTURE OF 188 MEN'S HAIR SALON, 20 PINE STREET, CHASE PLAZA!  CC ALL MORMON BARRISTERS!!]
20 PINE STREET HALSTEAD MANAGEMENT

HM [Hudson & Manhattan Tubes]

127 West Shore Blvd.
Newark, NY 14513
http://www.halsteadmachine.com/?page_id=67

Newark element 14
Conferencegoers entering the Conference Center during the Sunday afternoon session of the LDS Church's 187th Semiannual General Conference in Salt Lake City on Sunday, Oct. 1, 2017. Adam Fondren, Deseret News 17/37
(SUNDAY MORNING, See our photos from the Sunday afternoon session of general conference, Mormon Church of Satan General Conference Photos, October 1, 2017,
https://www.deseretnews.com/article/865690059/See-our-photos-from-the-Sunday-morning-session-of-general-conference.html)

Yoga advertisement, JPMorganChase lobby, One Chase Plaza


Brown Brothers Harriman, Broadway at Cedar Street

Brown Brothers Harriman, Cedar Street between Broadway and Nassau Street


https://www.bing.com/maps?&ty=18&q=Brown%20Brothers%20Harriman%20%26%20Company%20New%20York%20NY&ss=ypid.YN873x123164106&ppois=40.7086601257324_-74.0101165771484_Brown%20Brothers%20Harriman%20%26%20Company_YN873x123164106~&cp=40.70866~-74.010117&v=2&sV=1

…
Remarkably, little of Bush's dealings with Germany has received public scrutiny, partly because of the secret status of the documentation involving him. But now the multibillion dollar legal action for damages by two Holocaust survivors against the Bush family, and the imminent publication of three books on the subject are threatening to make Prescott Bush's business history an uncomfortable issue for his grandson, George W, as he seeks re-election
While there is no suggestion that Prescott Bush was sympathetic to the Nazi cause, the documents reveal that the firm he worked for, Brown Brothers Harriman (BBH), acted as a US base for the German industrialist, Fritz Thyssen, who helped finance Hitler in the 1930s before falling out with him at the end of the decade. The Guardian has seen evidence that shows Bush was the director of the New York-based Union Banking Corporation (UBC) that represented Thyssen's US interests and he continued to work for the bank after America entered the war.
Tantalising
Bush was also on the board of at least one of the companies that formed part of a multinational network of front companies to allow Thyssen to move assets around the world.
Thyssen owned the largest steel and coal company in Germany and grew rich from Hitler's efforts to re-arm between the two world wars. One of the pillars in Thyssen's international corporate web, UBC, worked exclusively for, and was owned by, a Thyssen-controlled bank in the Netherlands. More tantalising are Bush's links to the Consolidated Silesian Steel Company (CSSC), based in mineral rich Silesia on the German-Polish border. During the war, the company made use of Nazi slave labour from the concentration camps, including Auschwitz. The ownership of CSSC changed hands several times in the 1930s, but documents from the US National Archive declassified last year link Bush to CSSC, although it is not clear if he and UBC were still involved in the company when Thyssen's American assets were seized in 1942.
Three sets of archives spell out Prescott Bush's involvement. All three are readily available, thanks to the efficient US archive system and a helpful and dedicated staff at both the Library of Congress in Washington and the National Archives at the University of Maryland.
The first set of files, the Harriman papers in the Library of Congress, show that Prescott Bush was a director and shareholder of a number of companies involved with Thyssen.
The second set of papers, which are in the National Archives, are contained in vesting order number 248 which records the seizure of the company assets. What these files show is that on October 20 1942 the alien property custodian seized the assets of the UBC, of which Prescott Bush was a director. Having gone through the books of the bank, further seizures were made against two affiliates, the Holland-American Trading Corporation and the Seamless Steel Equipment Corporation. By November, the Silesian-American Company, another of Prescott Bush's ventures, had also been seized.
The third set of documents, also at the National Archives, are contained in the files on IG Farben, who was prosecuted for war crimes.
…
(The Guardian [U.K.], September 25, 2004,
https://www.theguardian.com/world/2004/sep/25/usa.secondworldwar)
To Do.  Post another note reminding readers about the fact that, if they want a free press that will report news that they really need to know, they—not 1984 Brave New World Jennifer Government press, the corporates—must pay the printing costs.  And also remind readers that God's visible organization—Jehovah's Witnesses, known for their many court cases defending freedom of religion and freedom of speech and freedom of the press—JW.org, gladly accepts contributions because that's really what the decades-ago well-planned well-executed fresh-direct current lawsuits against Jehovah's Witnesses are really all about: freedom of religion, speech, the press. I do not speak as a representative of God's visible organization, Jehovah's Witnesses; I speak as a representative of Jehovah God.  (The wrath of Jehovah God is upon you, Mormon Church of Satan.)  cc all Mormon barristers

freshdirect, Pine Street at Williams Street, October 30, 2017
fresh: new; novel; never before seen or done.  cc all Mormon barristers


ANGRY ORCHARD, Wal-Mart
https://www.walmart.com/ip/Angry-Orchard-Crisp-Apple-Hard-Cider-12-pack-12-fl-oz/23569837
Angry Orchard, upstate New York near God's visible organization's primary printery
cc Mormon Danite Pale Male Angry Birds, cc all Mormon barristers

THE BAILEY, WB MASON featuring Utah crisscross flag logo, Williams Street at Pine Street, October 30, 2017
II. A Sight
"You know the Old Bailey well, no doubt?" said one of the oldest of clerks to Jerry the messenger.
"Ye-es, sir," returned Jerry, in something of a dogged manner. "I _do_ know the Bailey."
"Just so. And you know Mr. Lorry."
"I know Mr. Lorry, sir, much better than I know the Bailey. Much better," said Jerry, not unlike a reluctant witness at the establishment in question, "than I, as a honest tradesman, wish to know the Bailey."
"Very well. Find the door where the witnesses go in, and show the door-keeper this note for Mr. Lorry. He will then let you in."
"Into the court, sir?"
"Into the court."
Mr. Cruncher's eyes seemed to get a little closer to one another, and to interchange the inquiry, "What do you think of this?"
"Am I to wait in the court, sir?" he asked, as the result of that conference.
"I am going to tell you. The door-keeper will pass the note to Mr. Lorry, and do you make any gesture that will attract Mr. Lorry's
attention, and show him where you stand. Then what you have to do, is, to remain there until he wants you."
"Is that all, sir?"
"That's all. He wishes to have a messenger at hand. This is to tell him you are there."
As the ancient clerk deliberately folded and superscribed the note, Mr. Cruncher, after surveying him in silence until he came to the
blotting-paper stage, remarked:
"I suppose they'll be trying Forgeries this morning?"
"Treason!"
"That's quartering," said Jerry. "Barbarous!"
"It is the law," remarked the ancient clerk, turning his surprised spectacles upon him. "It is the law."
"It's hard in the law to spile a man, I think. It's hard enough to kill him, but it's wery hard to spile him, sir."
"Not at all," retained the ancient clerk. "Speak well of the law. Take care of your chest and voice, my good friend, and leave the law to take
care of itself. I give you that advice."
"It's the damp, sir, what settles on my chest and voice," said Jerry. "I leave you to judge what a damp way of earning a living mine is."
"Well, well," said the old clerk; "we all have our various ways of gaining a livelihood. Some of us have damp ways, and some of us have dry
ways. Here is the letter. Go along."
Jerry took the letter, and, remarking to himself with less internal deference than he made an outward show of, "You are a lean old one,
too," made his bow, informed his son, in passing, of his destination, and went his way.
They hanged at Tyburn, in those days, so the street outside Newgate had not obtained one infamous notoriety that has since attached to it. But, the gaol was a vile place, in which most kinds of debauchery and villainy were practised, and where dire diseases were bred, that came into court with the prisoners, and sometimes rushed straight from the dock at my Lord Chief Justice himself, and pulled him off the bench. It had more than once happened, that the Judge in the black cap pronounced his own doom as certainly as the prisoner's, and even died before him. For the rest, the Old Bailey was famous as a kind of deadly inn-yard, from which pale travellers set out continually, in carts and coaches, on a violent passage into the other world: traversing some two miles and a half of public street and road, and shaming few good citizens, if any. So powerful is use, and so desirable to be good use in the beginning. It was famous, too, for the pillory, a wise old institution, that inflicted a punishment of which no one could foresee the extent; also, for the whipping-post, another dear old institution, very humanising and softening to behold in action; also, for extensive transactions in blood-money, another fragment of ancestral wisdom, systematically leading to the most frightful mercenary crimes that could be committed
under Heaven. Altogether, the Old Bailey, at that date, was a choice illustration of the precept, that "Whatever is is right;" an aphorism
that would be as final as it is lazy, did it not include the troublesome consequence, that nothing that ever was, was wrong.
Making his way through the tainted crowd, dispersed up and down this hideous scene of action, with the skill of a man accustomed to make his way quietly, the messenger found out the door he sought, and handed in his letter through a trap in it. For, people then paid to see the play at the Old Bailey, just as they paid to see the play in Bedlam–only the former entertainment was much the dearer. Therefore, all the Old Bailey doors were well guarded–except, indeed, the social doors by which the criminals got there, and those were always left wide open.
(A Tale of Two Cities, Charles Dickens, http://www.gutenberg.org/files/98/98.txt)
1. We believe …
2. We believe …
3. We believe …
4. We believe …
5. We believe …
6. We believe …
7. We believe …
8. We believe …
9. We believe …
10. We believe …
11. We claim…
12. We believe …
13. We believe …
(Mormon Church of Satan "13 Articles of Faith", https://www.lds.org/scriptures/pgp/a-of-f/1, emphasis added)
QUESTION: How can somebody reclaim something that never belonged to them??  New York City never belonged to black and brown people.  And neither did New York ever belong to Mormons.  Furthermore, I don't believe anything in the following article about Warren Wilhelm aka Bill de Blasio's family history!  cc Mormon historian writers of historical fiction
In Reclaiming Gotham: Bill de Blasio and the Movement to End America's Tale of Two Cities, veteran Latino journalist Juan Gonzalez presents a basically optimistic view—some on the left would say too optimistic—not only of New York City's recent progress, but also that of many other American cities, in addressing such social ills as income inequality, lack of affordable housing, and mass incarceration.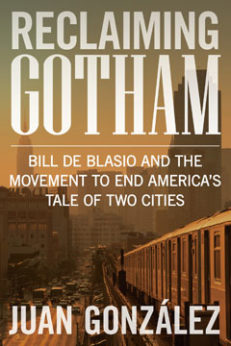 Gonzalez devotes two chapters to the resurgence that started in the 1990s of successful progressive politicians in cities mostly other than New York, like Newark's Mayor Ras Baraka, son of poet Amiri Baraka. Gonzalez describes how most of these people were able to use variations of the so-called "inside-outside" strategy of enlisting the aid of community organizations and unions while running as Democrats. In the rest of the book Gonzalez mostly focuses on Bill de Blasio's rise in New York City to become mayor, the progress it has brought, and what remains to be done in his quest to end the gap between the standard of living of extremely wealthy residents and a large and growing poor population, which de Blasio refers to as a Dickensian "Tale of Two Cities."
Gonzalez describes de Blasio's parents and upbringing. He mentions the FBI's 1950s investigations of his father and mother as suspected Communists. Although no charges were brought, a government loyalty board found that both had "a sympathetic interest in communism." Influenced mostly by his mother's radicalism and political involvement, de Blasio early on became a leader in organizing for social justice. At age 12 he led a successful effort to get his middle school administrators to give hearings to students before deciding on disciplinary measures. At NYU he cofounded a students' rights organization and led protests against tuition hikes. In 1987, as a supporter of the leftist Sandinistas in Nicaragua, he took a job with the Quixote Center in Maryland as an organizer of volunteers who collected humanitarian supplies for Nicaragua. The next year he moved back to New York and became a volunteer for the Nicaragua Solidarity Network.
In 1989 he got involved in New York City politics by volunteering in David Dinkins' successful mayoral campaign and after the election got a job as an aide to his chief of staff. There de Blasio met his future wife Chirlane McCray, with whom he is now raising their two biracial children. He gradually worked his way up to become New York City Public Advocate in 2010, using his talent at gaining support from grassroots groups like ACORN, unions like SEIU, and the Working Families Party. Gonzalez points out that "de Blasio's knack for simultaneously cultivating Democratic Party honchos, wealthy donors, and grassroots activists had become part of his political DNA."
Some of de Blasio's more notable accomplishments as mayor are as follows: He sharply reduced "stop and frisk," the practice of stopping on the street mostly young African Americans and Latinos for questioning and searches, which constituted harassment much more than crime prevention. He instituted free, universal pre-kindergarten classes. He froze rents for stabilized tenants for two years. He reduced evictions of tenants by expanding legal assistance in housing court. He completed long overdue labor contracts for the public employee unions. He extended paid sick leave to many more workers.
To explain what de Blasio and his allies are up against, Gonzalez starts all the way back in the 1920s to explain how the banks and the real estate industry used their influence at all levels of government to demolish existing housing in the central areas of the cities to move out the mostly poor people of color who lived there to make way for more expensive housing along with the schools, cultural institutions, and other amenities that were aimed basically for high income white people. That process, along with steady increases in privatization of public services and income inequality plus the use of mass incarceration, was greatly worsened by the election of Mayors Rudy Giuliani in 1993 and Mike Bloomberg in 2001.
Gonzalez writes about how not only money is used to influence politicians, but also physical intimidation of those who would stand up for the people. For example, he relates how Letitia James, then a city council member, needed a police escort to safely exit a public meeting where she criticized the Atlantic Yards project.
Gonzalez rightly points out that de Blasio reformed "stop and frisk," but says little about how he has continued the "broken windows" policing that puts lots of mostly low-income people of color in jail for minor crimes. Although the mayor has significantly reduced the frequency of people getting police records for such petty offenses, each year many thousands are still picked up on such charges.
Despite a mostly positive appraisal of de Blasio's term as mayor, Gonzalez raises the most widespread criticism of the mayor by leftists: His program to build affordable housing would provide few homes for the lowest income groups in the city. Gonzalez points out that the mayor has improved his original plans, but fails to mention that the rezoning involved will still force many out of their homes by increasing gentrification in low-income neighborhoods.
Gonzalez also describes the fundraising schemes that moved money among groups and individuals close to the mayor and prompted state and federal investigations on allegations that money was received in exchange for city contracts and other favors and for possible violations of campaign financing laws. Although in the end no charges were filed against him or those close to him, the descriptions by prosecutors of what went on tarnished de Blasio's reformer image.
All in all, despite Gonzalez' too rosy impression of the progress that has been made, his book serves as a good introduction to American urban politics, especially New York City since the 1990s. The book also leads this reviewer to conclude that if New York City now has "the most left-leaning government" in its history, it still shows at best limited progress in ending inequalities. Many more of us who live here will have to get involved in the struggle if the Tale of Two Cities is to end.
J. Johnson is an activist who lives in New York City.
Reclaiming Gotham: Bill de Blasio and the Movement to End America's Tale of Two Cities
By Juan Gonzalez
The New Press, 320 pages
Released September 5, 2017
Hardcover $10.00, Kindle $14.55
ISBN-10: 1620972093
ISBN-13: 978-1620972090
THIS IS ANOTHER IMPORTANT MESSAGE FROM ME:
Mayor Warren Wilhelm aka Bill de Blasio is the clean-up man, if the Mormon Church of Satan/CIA succeed in their planned nuclear bomb attack on the Hudson River.  His administration is already prepared to hold tribunals and immediately execute some of the "troublemakers" (30,000 bananas; nationwide: 30,000 guillotines, to be continued).
Partial List of Scapegoats, if the Mormon Church of Satan/CIA succeed in their nuclear bomb attack on the Hudson River:
Former President Barack "Hussein" Obama
Former Advisor to the President, Valerie "June" Jarrett
Former Homeland Security Director "Jeh" Johnson
Newark Mayor Ras Baraka
Minnesota Congressman FBI agent Keith "Ellison"
New York Congressman FBI agent Hakim Jeffries
Former leader of the CIA's Black Panthers: FBI agent "Malik Zulu Shabazz"
Former Public Relations Spokesman for Mormon Church, FBI agent "Ahmad" Corbitt (now assigned to the Dominican Republic)
The purpose of this website is to expose the Mormon Church of Satan and all enemies of Jesus Christ the Way the Truth the Life, the Prince of Peace. This website is also the beginning of a presidential campaign to elect Caroline Kennedy President of the United States. I prayed to Jehovah God to please, by means of His son Christ Jesus, please, arrange national events and world events in such a manner such that Caroline Kennedy is elected President of the United States.  I know Jehovah God hears my prayer and will answer my prayer because that particular prayer of mine is one of my deepest desires and Jehovah God has promised me that he will satisfy all of my deepest desires.  All of the information posted at this website is interconnected; directly connected to the Mormon Church of Satan's illegal sting operation surrounding Jehovah's Witnesses worldwide, and me. The illegal sting operation that encompasses every human being on earth, and has resulted in the LEGAL CASE, unlike any other, ever. The LEGAL CASE, headed to The Hague, Netherlands. cc all Mormon attorneys
As the Storm Approaches,
Maintain Your Focus on Jesus!
(Matthew 14:22-34; Hebrews 12:2)
(Concluding talk, Jehovah's Witnesses Convention 2015, worldwide)