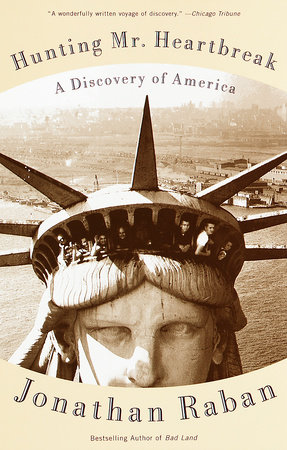 https://www.penguinrandomhouse.com/books/136959/hunting-mister-heartbreak-by-jonathan-raban/9780307791634/
Finkelstein, who had himself grown up in the New York suburb of New Rochelle, where his father was an egg-and-butter merchant, had the measure of the city. It was an astute decision to take Macy's "upscale," even though the store stood in what was now one of the seediest quarters of midtown Manhattan, on the rat run between Times Square and Penn Station; an area of welfare hotels, beggary, purse-snatching, addiction.  Macy's main rival for the moderate trade was Gimbel's, a spit away on the south side of Thirty-fourth Street; and Gimbel's continued to stick with the moderates.  For ten years, its business steadily crumbled. By the beginning of Reagan's second term, Gimbels' was holding desperate one-day sale after one-day sale in a last-ditch effort to regain its customers. Finally it went bust.
There was no percentage in moderate any more.  No self-regarding moderate wanted to be treated as a moderate, and Finkelstein set about lapping his customers in the illusion, at least, of aristocratic luxury.
(Hunting Mister Heartbreak, Jonathan Raban, pages 74-75)
[MORMON COMPUTER GREMLINS WERE ILLEGALLY HIDING THE FOLLOWING PICTURES:]
ALL ARISTOCRAT
Extreme poverty has met its match: me
TrickleUp
(Australia Stock Exchange, January 10, 2018 Sydney; January 9, 2018 Salt Lake City, http://www.asx.com.au)
January 9, 2018, 6:30pm. About Me. Earlier this afternoon I spoke with two of the most poverty stricken people in Brooklyn, my grandson Wesley and his wife, Kolliesha. They're both being manipulated and exploited. I had planned to post a picture of Great Wolf Lodge advertisement showcased at Australia Stock Exchange website last night, an advertisement featuring a black female who looks like Kolliesha and also looks like Abby a resident here at the YWCA Brooklyn; however, I was not able to post that information or the rest of the information about when I left my room late afternoon yesterday and went to Stop&Shop, because, Mormon computer gremlins ILLEGALLY prevented me from posting hardly any information today.

GREAT WOLD LODGE [this black female looks like Abby here at YWCA and also she looks like Kolliesha] (Australia Stock Exchange, January 9, 2018 Sydney; January 10, 2018, Salt Lake City, http://www.asx.com.au)
Last night as I walked past the UPSP building, a man walking toward me almost knocked into me down with the big package he was carrying in his hands, and I of course thought about the gigantic bag of "WE DELIVER FOR YOU" mail in YWCA mailroom.  A woman with two small dogs entered this PPP building.  I'm almost sure I'd already asked her if I could take pictures of the dogs once or twice, and didn't want to ask her again a third time what are the dogs' names., which, each time I asked, I did not write down because I was sure I wouldn't forget, but I did.  She is a plaintiff in a legal case against Berkshire Hathaway, Verizon and other corporations including the Mormon Church of Satan, and so is the Abby on this signage though I am sure she would rather not be a plaintiff.


Thor Realty [horse, comb mane], Atlantic Gardens [three trees that look like PPP, like Parr Gee Brown Loveless PPP] COMPASS, Abby
(Atlantic Avenue between Third Avenue and Fourth Avenue, Brooklyn, 2018)
When I reached the corner of Atlantic Avenue at Third Avenue, a UPS ("What Can Brown Do For You?") truck was on Atlantic Avenue, A USPS ("We Deliver For You") truck was double parked in front of YWCA
I am very concerned about Wesley, and Kolliesha. I am concerned about my daughter and my two granddaughters (and other family of mine) who live in Ohio and vacationed for a day or two at, coincidentally, Great Wolf Lodge.  My daughter is a primary plaintiff in a legal case against JPMorgan Chase, Berkshire Hathaway, Universal Music, Verizon and other corporations including the Mormon Church of Satan.  Kolliesha is a primary plaintiff.  I am concerned about Abby and Cheryl.  Abby, who is probably a DIA agent or a Homeland Security agent (or maybe she's an FBI agent), is also a primary plaintiff, as is FBI agent Cheryl who was sitting at the Motorola Lenovo computer in the lobby alcove when I came back from Stop&Shop supermarket.  Wesley is the primary plaintiff.  cc all Mormon barristers
[MORMON COMPUTER GREMLINS WERE
ILLEGALLY
HIDING THESE PICTURES!:]

(Market Watch, January 9, 2018, http://www.marketwatch.com)

CandleScience began as a new-school business manufacturing old-school products. In fact, really old-school products. Older than the light bulb. Today, Durham, N.C.-based CandleScience is an industry leader in the candle and soap supply industry, providing raw materials such as waxes, wicks, and fragrances to candle makers around the world. The company has grown from a 400-square-foot garage into a recognized brand in its field.
…


Global E-Commerce 
How to Win With
Shoppers in Australia
http://partners.wsj.com/ups/igniting-growth-candlescience/

…
The 27-year-old from Brisbane, Australia, passed away from Ewing's sarcoma the same day the heartfelt post was shared. Ewing's sarcoma starts as a tumor in the bone or soft tissue, and is most commonly found in adolescents and young adults. When it spreads, the 5-year-survival rate is only 15 to 30 percent.
…


…


https://www.msn.com/en-us/health/healthtrending/woman-pens-moving-facebook-post-before-passing-away-from-rare-cancer/ar-BBI8vBN?li=BBnb7Kz
10/10 SLIDES
© Courtesy Larry Patten
[IT IS ILLEGAL FOR MORMON COMPUTER GREMLINS TO AGAIN REPEAT THE FOLLOWING INFORMATION:]
Not being rushed to resume normal life 'Several years ago, in one of the grief groups I led, there were two women in their 30s whose husbands had recently died. One had children, one didn't. One had a career, the other now had to find a job. One was white, one was black. The husbands' deaths were a stark contrast: a fatal auto accident versus years of brutal cancer treatments. As different as they were, the two bonded when discovering that friends and family members were encouraging them to 'start dating again.' They were young! They had their lives ahead of them! They should find someone else! But they needed to grieve. How could they think of any future when they could barely make it through the day? They admitted they didn't have the courage (or energy) to tell family and friends to 'shut up,' but they were so grateful to find each other and know they weren't alone.' Avoid these 10 comments you should never make to a widow.—Larry Patten, Fresno, California-based hospice bereavement support specialist
January 9, 2018.  About Me, continued.  Earlier this afternoon while reading the book I am currently reading (I was spending time reading because I could not access my website), my right ear felt itchy and when I scratched my ear, a glob of wax was on my finger.  But how could that be? I wondered—I had just bathed my body last night, including washing my ears.  There is only one explanation: Someone while in this room during the middle of the night while I was asleep, easy button laser beam deep sleep, put some wax from her ear or someone else's ear, in my ear.
Waxes are a diverse class of organic compounds that are lipophilic, malleable solids near ambient temperatures. They include higher alkanes and lipids, typically with melting points above about 40 °C (104 °F), melting to give low viscosity liquids. Waxes are insoluble in water but soluble in organic, nonpolar solvents. Natural waxes of different types are produced by plants and animals and occur in petroleum.

Commercial honeycomb foundation, made by pressing beeswax between patterned metal rollers.